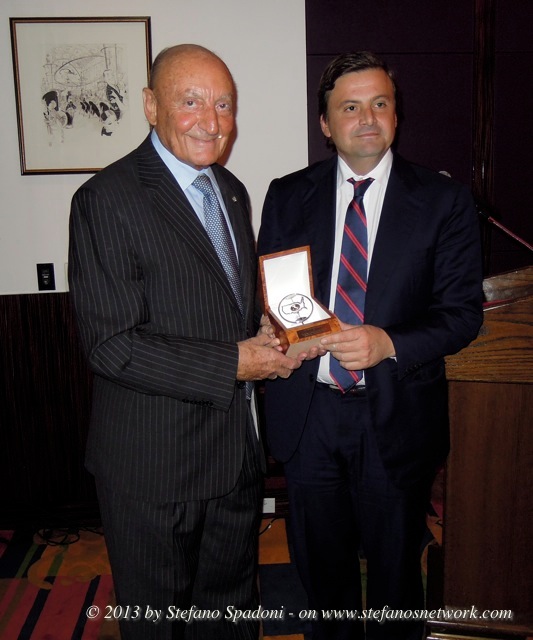 GEI Dinner in honor of Dr. Carlo Calenda, Vice Minister at the Italian Ministry of Economic Development
Good evening, ladies and gentlemen. Today I am very pleased to welcome to GEI the Vice Minister at the Ministry of Economic Development, Dr. Carlo Calenda.
Prior to receiving his degree in Law from Rome University "La Sapienza" in 1998, he worked as Financial Planner at San Paolo Invest in Rome. From 1995 until 1998, he was the Senior Financial Planner at Prudential SIM, also in Rome.
He then moved to London where, from May to October 1998, he worked in Business Development at Southern Star PLC.
From 1998 to 2003, he served in several positions at Ferrari and Maserati, including Customer Care Manager, Customer Relationship Manager, and Relationship Manager.
Dr. Calenda then worked as Product Marketing and Planning Manager for SKY Italia Rome/Milan from 2003 to 2004.
Afterwards, he held the position of Director for International Affairs and of Assistant to the President at the Rome Headquarters of Confindustria from 2004 to 2008. During his tenor, he focused on the main issues related to trade and investment, and followed the development and implementation of international missions, institutional meetings, and business activities between companies. Moreover, he led numerous business delegations abroad and developed actions of economic penetration in key global markets, such as India, China, Egypt and Mexico, to name a few.
In 2008 and until 2013, he was Director of the Interporto Servizi Cargo, as well as the Director General of the Interporto Campano in Naples.
On May 3, 2013, Dr. Calenda was appointed Vice Minister at the Ministry of Economic Development in Rome.
In addition, he was a member of the Board of Directors of several organizations, including the GESAC, the Orione Fund, the Advisory Committee of ICE Agenzia, the Institute of International Affairs, and the FIAT Group's Steering Committee for the Adoption of New Technologies.
Dr. Calenda is highly respected for his leadership, intelligence and integrity; and his dedication to improve the economic situation in Italy has been exemplary.
Therefore, I am pleased to welcome Dr. Carlo Calenda and present him on behalf of GEI with the "GEI FRIENDSHIP AWARD" in honor of  his many achievements.
Photo Gallery:
The luncheon was held on October 28, 2013 in the Stella Private Room of Le Cirque restaurant in New York City.