GEI Luncheon in honor of Min. Andrea Orlando, Minister of Justice of Italy
To read a press release (in Italian) on the GEI luncheon in honor of Min. Orlando, please click HERE or click on the article below: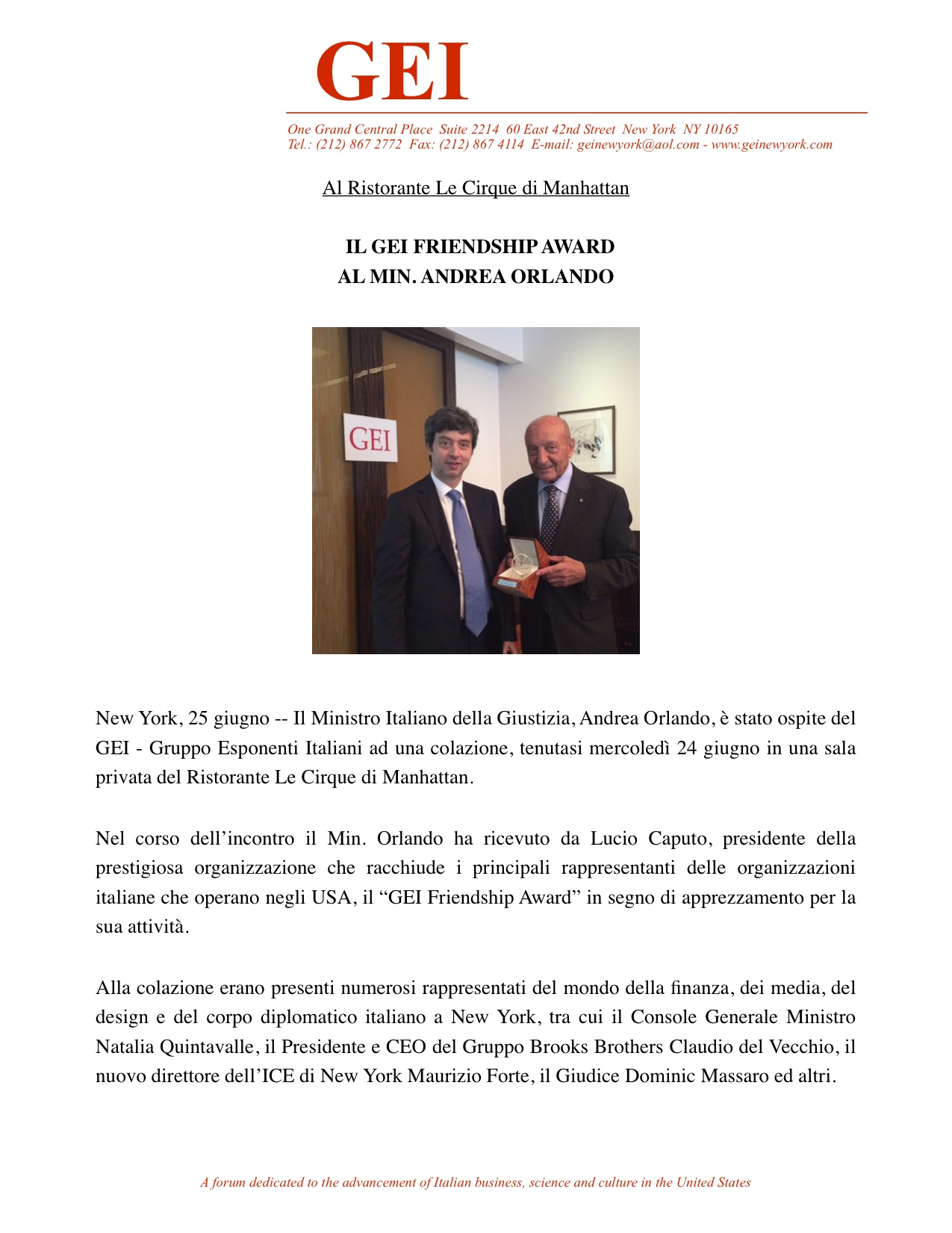 Remarks by GEI President Lucio Caputo:
Good afternoon, ladies and gentlemen. Today I am very pleased to welcome to New York and to GEI the Minister of Justice of Italy, Hon. Andrea Orlando.
Born in La Spezia, he became provincial secretary of the Youth Federation of Italian Communists in 1989.
In 1993 he became the party's leader in the City Council, and in 1997 he was elected to the City Council and the Mayor of La Spezia appointed him town councilor.
In 2000 he entered Tuscany's regional secretariat in charge of local authorities of the DS. In 2003 Piero Fassino called him to the party's national directorate. In 2006 he became a member of the party's national secretariat.
That same year, he was elected in the 10th constituency for the Liguria region of the "Ulivo" coalition, and in the 2008 he was re-elected to the Chamber of Deputies.
In November 2008 he was appointed spokesperson for the Democratic Party. A year later, he was appointed Chair of the Party's Justice Forum.
From 2011 to 2013 he was also Commissioner of the Democratic Party in Naples.
In 2013 he was re-elected to the Chamber of Deputies, and he became Minister for the Environment in the Letta government. In February 2014 he was appointed Minister of Justice in the Renzi government.
Recently, Minister Orlando has been involved in the reform of the Italian justice system, a very complicated and difficult task on which we are very interested to hear the latest developments.
Meanwhile, I am pleased to welcome Minister Orlando and present him, on behalf of GEI, with the "GEI FRIENDSHIP AWARD" in recognition of  his many accomplishments.
The luncheon was held on June 24, 2015 in the Stella Private Room
of Le Cirque restaurant in New York City.