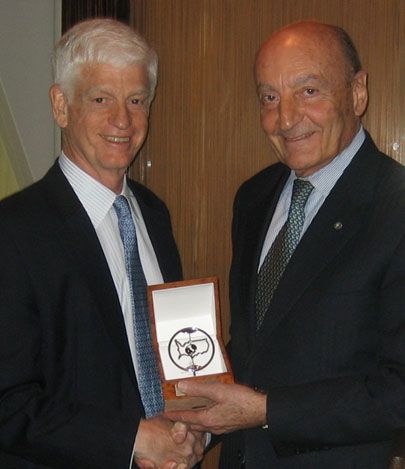 GEI Luncheon in honor of Mr. Mario Gabelli
I am very pleased indeed to welcome to GEI Mr. Mario Gabelli. Mr. Gabelli, as you know,  is Chairman and CEO of Gamco Investors,  a New York Stock Exchange listed company that he founded in 1977 and has since grown into the diversified financial services corporation it is today. 
Mr. Gabelli company is a widely recognized provider of investment advice to alternative investments, mutual funds, institutional and high net worth investors and is listed on the New York Stock Exchange under the symbol GBL.
Mr. Gabelli is a leading proponent and a pioneer of the Graham & Dodd school of securities analysis. His proprietary Private Market Value with a Catalystô methodology is now an analytical standard in the value investing community.
In addition to his own company, Mr. Gabelli is Chairman & CEO of Lynch Interactive.
He is member of the Board of Overseers of Columbia University Graduate School of Business and member of the board of Trustees of Boston College and of Roger Williams University.
He is Trustee of the Winston Churchill Foundation of the United States, which encourages scientific & technological talent by providing scholarships and fellowships to outstanding graduate students and professors to study and do research at Churchill College, Cambridge, England.
He is member of the  the Economic Club of New York.
Mr. Gabelli is a summa cum laude graduate of Fordham University and holds an MBA from Columbia University and an Honorary Doctorate Degree from Roger Williams University in Rhode Island.
Mr. Gabelli has been a frequent commentator on CNBC and CNN. 
Mr. Gabelli is also often written about in the financial media including Institutional Investor, Business Week, Fortune, Forbes, Money and Changing Times. He has also contributed articles to investment publications such as the Financial Analysts Handbook.
It is therefore with great personal pleasure that I present Mr. Mario Gabelli with the GEI Friendship Award in recognition of his many and successful accomplishments.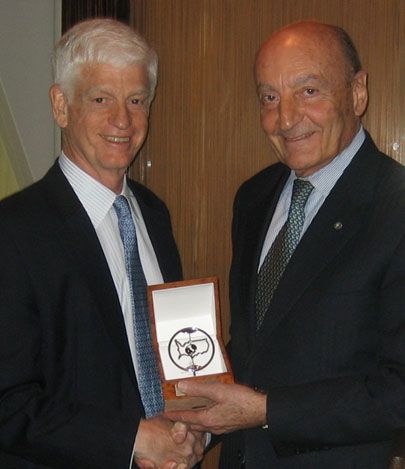 The luncheon was held on April 15, 2009 in the Stella Private Room of Le Cirque restaurant in New York City.