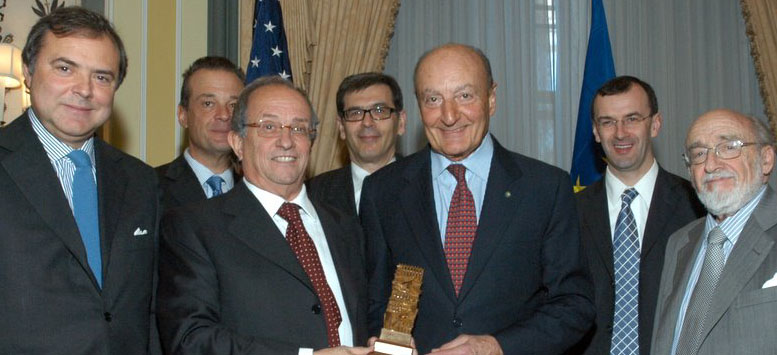 GEI Award 2006 to Francesco Guarguaglini
May 1, 2006 ~ The Pierre Hotel, New York City
Pier Francesco Guarguaglini, chairman and chief executive officer of Finmeccanica S.p.A., Italy's leader in aeronautics and one of Europe's largest makers of commercial and military aircraft and aeronautical components, was honored with the GEI Award at a ceremony at the Pierre Hotel on May 1, 2006 at The Pierre Hotel.
The award was presented by Lucio Caputo, president of Gruppo Esponenti Italiani (GEI), in recognition of Mr. Guarguaglini's contributions to strengthening industrial ties between Italy and the United States.
Finmeccanica is a partner in American and European military projects with major U.S. contracts, most notably the civilian and combat-ready 14-ton US 101 helicopter, made for the U.S. Air Force, and the U.S. President's official helicopter. Other U.S. projects include the Joint Strike Fighter, the Boeing 787 Dreamliner, the M346 combat aircraft, the Army's C-27J Spartan tactical military aircraft and the BA609 Tiltrotor aircraft.
Finmeccanica S.p.A., the company Mr. Guarguaglini has led since April 2002, is Italy's leading high-technology company, listed on the Milan Stock Exchange. It operates in Italy and abroad through 16 companies and six joint ventures and employs more than 56,600 employees worldwide with 2005 production valued at 11.5 billion euros.
Finmeccanica's operations include the design and manufacture of helicopters, aerostructures, satellites, space infrastructure, missiles and defense electronics. It plays a key role in the European aerospace and defense industries and its well-established alliances with European and American partners enable the Group to participate in some of the largest international projects. Its diverse operations include manufacturing assets and expertise in the transport, energy and IT sectors.
Born in Castagneto Carducci (Livorno), Italy, in 1937, Mr. Guarguaglini earned a degree in electronic engineering from the University of Pisa, as well as a Ph.D. in electrical engineering from the University of Pennsylvania, and was a tenured lecturer at the University of Rome.
Before heading up Finmeccanica S.p.A., Guarguaglini was chief executive officer from May 1999 to April 2002 of Fincantieri Cantieri Navali Italiani S.p.A., Europe's largest and most diversified shipbuilding company. 
Mr. Guarguaglini also holds memberships in the Italian Fulbright Commission, the National Italian American Foundation Council, the Board of the Council for the United States and Italy, and the Consulting Committee of SACE S.p.A.