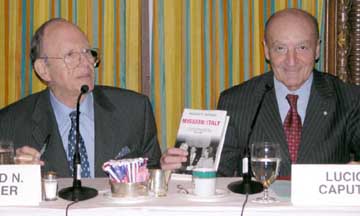 GEI Luncheon in honor of Amb. Richard Gardner
Richard N. Gardner is Professor of Law and International Organization at Columbia Law School and Counsel to Morgan Lewis, a global law firm. He served as US Ambassador to Italy from 1977 to 1981 and as US Ambassador to Spain from 1993 to 1997.  During his service in Spain, he received the Thomas Jefferson Award for his contributions to US citizens abroad.  From 1961 to 1965 he served as Deputy Assistant Secretary of State for International Organization Affairs.
He was a member of the President's Advisory Committee on Trade Policy and Negotiations (ACTPN) and was a member of the US delegation to the Ministerial meeting of the World Trade Organization held in Seattle at the end of 1999.  He is also a member of the State Department's Advisory Committee on International Economic Policy.
Professor Gardner holds a Doctor of Jurisprudence from Yale Law School, a Doctor of Philosophy degree in Economics from Oxford, where he studied as a Rhodes Scholar, and a BA degree in Economics from Harvard.  His Oxford thesis, published by the Oxford University Press as Sterling?Dollar Diplomacy, has been described as the "classic" study of Anglo?American economic collaboration in the creation of the Bretton Woods institutions and GATT.
He is the author of three other books on international affairs, including In Pursuit of World Order:  US Foreign Policy and International Organization and of numerous articles in Foreign Affairs, the New York Times, the Washington Post, the Wall Street Journal and other publications.  In 1992 the Council on Foreign Relations published his booklet entitled Negotiating Survival:  Four Priorities After Rio.
He is a member of the Trilateral Commission, the American Philosophical Society, and the Council on Foreign Relations.  He is a member of the International Advisory Board of Banco Santander Central Hispano.  He serves on the International Capital Markets Advisory Committee of the New York Stock Exchange.  He is also Chairman of the American European Community Association?USA, Vice President of the American Ditchley Foundation.