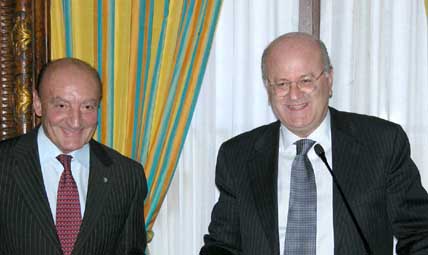 GEI Luncheon in honor of Ing. Elio Catania 
Born in June 1946, Elio Catania is an Electrical Engineering graduate from the University of Rome.
Elio Catania joined IBM Italy in 1970 in the Public Sector branch. He has held several marketing and sales responsibilities, until becoming Director of Banking and Insurance Sector in Italy in 1985. In 1987 Elio Catania was appointed Vice President of Marketing IBM Europe. Back in Italy in 1991, he became Assistant General Manager for Operations. In 1994 he was appointed President and General Manager for IBM South Europe, Middle East and Africa.
In January 1996 he moved to New York, USA, assuming the role of General Manager IBM Latin America.
He returned to Italy in January 1999 in the capacity of President and General Manager IBM Italy, with the responsibility for the Mediterranean Countries. He is a member of the EMEA Senior Leadership Team.
He is also a member of the board of Banca Nazionale del Lavoro (BNL) and member of the Advisory Board of Banco di Sicilia.
In 1985 he received his Master Degree in Management Science at the Sloan School of the Massachusetts Institute of Technology (MIT), Boston.