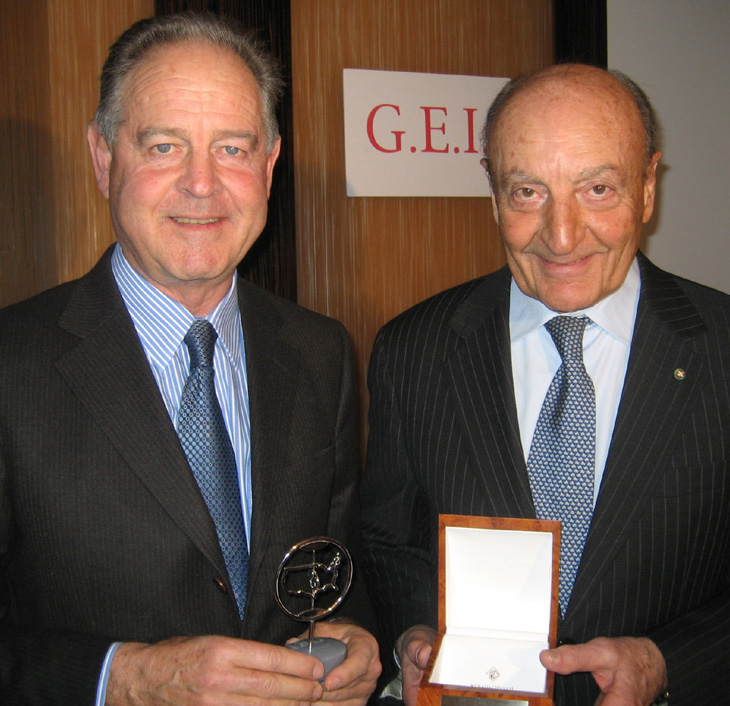 GEI Luncheon in honor of Marchese Piero Antinori – New York, January 27, 2009 – Remarks by Lucio Caputo – President of GEI.
I am very pleased to welcome to GEI Marchese Piero Antinori, who is without any doubt the person that more than any other can be considered the most prestigious representative of Italian wines in Italy and all over the world.
Marchesi Antinori represent over 600 years of traditional and innovative wine production starting in 1385, when the family registered in the Florentine Vintners' Guild. As president, Marchese Piero Antinori has shaped the company over the past quarter-century into one whose wines are prized by connoisseurs the world over.
Piero Antinori was born in 1938, the second of three children of Marchese Niccolo Antinori and Carlotta della Gherardesca, descended on her father's side from a historic noble family dating from Charlemagne's invasion of Italy in the eighth century, and, on her mother's, from the American Moses Taylor, a founder of First National City Bank.
He lives in the family's 15th century Palazzo Antinori in Piazza Antinori in the center of Florence where the Antinoris have lived and worked since 1506. He began drinking and tasting wines at fifteen and progressively became more directly involved in the family business in Italy and abroad.
Following a degree in economics at the University of Florence he become a trained wine technician and joined Marchesi Antinori in 1962 to became president on his father's retirement in 1966.
For 25 years, he has combined progressive and original techniques with traditional ones to dramatically improve and redefine winemaking in Italy. In the same way he contributed also towards raising Italy's reputation to the highest level on the global wine market. With the 1971 vintage, he produced a new breed of wine that became the prototype in a category of wines that is today called Super Tuscan. His Tignanello is considered one of the best existing wines.
In recognition of his important activities Piero Antinori has received so many awards that it would take all the time we have to mention them. I will only cite the Cavaliere del Lavoro, the Decanter Magazine's "Man of the Year Award" and the last one, the "Lifetime Achievement Award", bestowed upon him at a black tie gala celebration at the New York Library by the Wine Enthusiast, one of the two leading US wine publications last night.
Marchese Piero Antinori who still lives and works in Palazzo Antinori – and his wife, the former Princess Francesca Boncompagni Ludovisi, whose mother's family included popes Leo XIII and Gregory XVI, have three daughters that continue the family tradition: Albiera, Allegra and Alessia. Benvenuta Alessia.
I have known Piero from the time when, in 1975, we started the now legendary wine promotion that from 1975 to 1984 increased Italian wine export to the US from 140 thousand hectoliters to 2.6 million hectoliters firmly putting Italian wines on top of US imports in quantity and value; a position Italian wines still enjoy.
Since then, we were involved in many events and were part of many rewarding and successful experiences. It is therefore with great personal pleasure that I welcome Piero today to GEI, an organization that is not directly connected with wines, even if definitively enjoy great wines like the ones we have today, but with the image of Italy.
And it is therefore with great personal pleasure that I present to Piero Antinori – who has done so much for the image of Italian wines and of Italy the world over – with the "GEI FRIENDSHIP AWARD" in recognition of his many accomplishments and his great contributions to the image of Italy.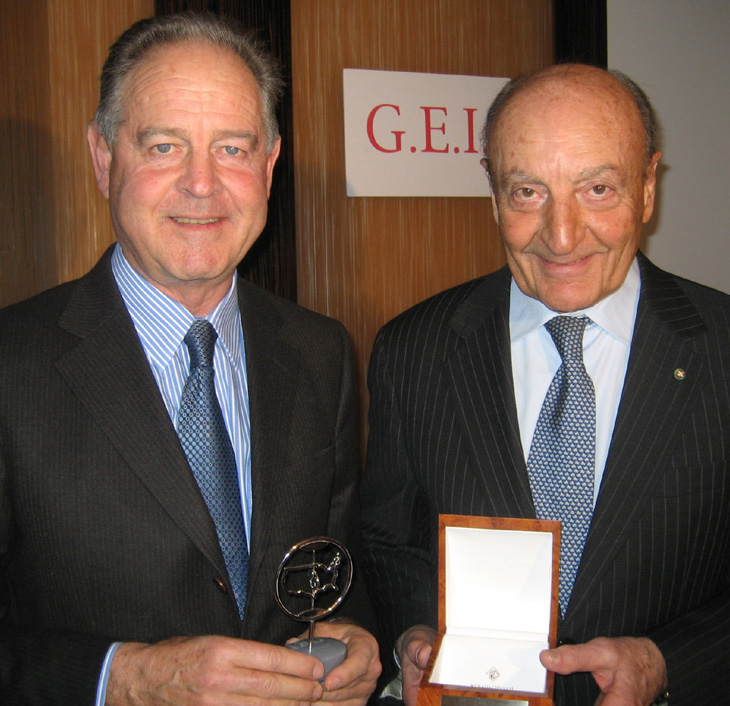 The luncheon was held on January 27, 2009 in the Stella Private Room of Le Cirque restaurant in New York City.