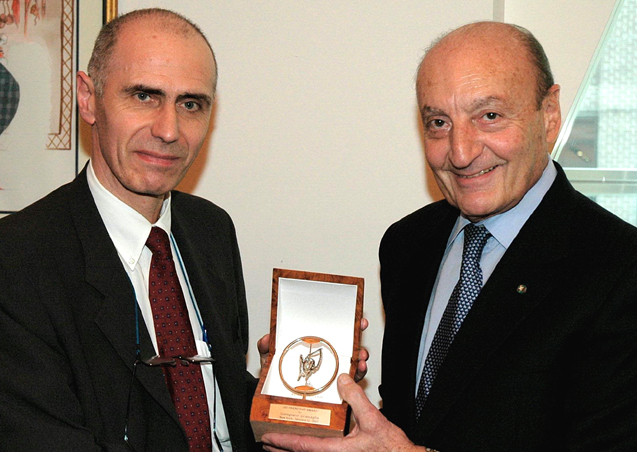 GEI Luncheon in honor of Mr. Giampiero Gramaglia
Capo redattore centrale dell'ANSA a Roma, è nato a Saluzzo (Cn) nel 1950. Giornalista dal 1973, professionista dal 1975, Gramaglia inizia l'attività giornalistica a "La Provincia Pavese" nel 1972. Dal 1976 al '79 è alla "Gazzetta del Popolo" di Torino. Nel 1979 è corrispondente da Bruxelles de "La Gazzetta".
Nel 1980 passa all'ANSA, presso l'Ufficio di Bruxelles, che copre la Cee e la Nato. Nel 1984 diventa responsabile dell'Ufficio. Nel 1989 è a Roma, all'ANSA, caporedattore della Redazione dall'Estero. Dal 1990 è caporedattore centrale, responsabile della redazione dall'Estero e degli Uffici all'Estero. Nel 1992 partecipa alla creazione dello "European Press Club of Rome", di cui è segretario generale. Nel 1995 acquisisce la responsabilità giornalistica dei nuovi prodotti ANSA. Nel 1996 acquisisce la responsabilità giornalistica della partecipazione ANSA alla Bloomberg Television.
Gramaglia ha costantemente collaborato a numerose pubblicazioni, ha partecipato a numerosi convegni e/o trasmissioni radio e tv, specie di carattere europeo, e ha curato dal 1993 a oggi la pubblicazione di una ventina di dossier dell'ANSA sui principali appuntamenti di politica internazionale: i G7, i vertici europei, il cinquantesimo anniversario delle Nazioni Unite, la conferenza di revisione del Trattato di Maastricht.