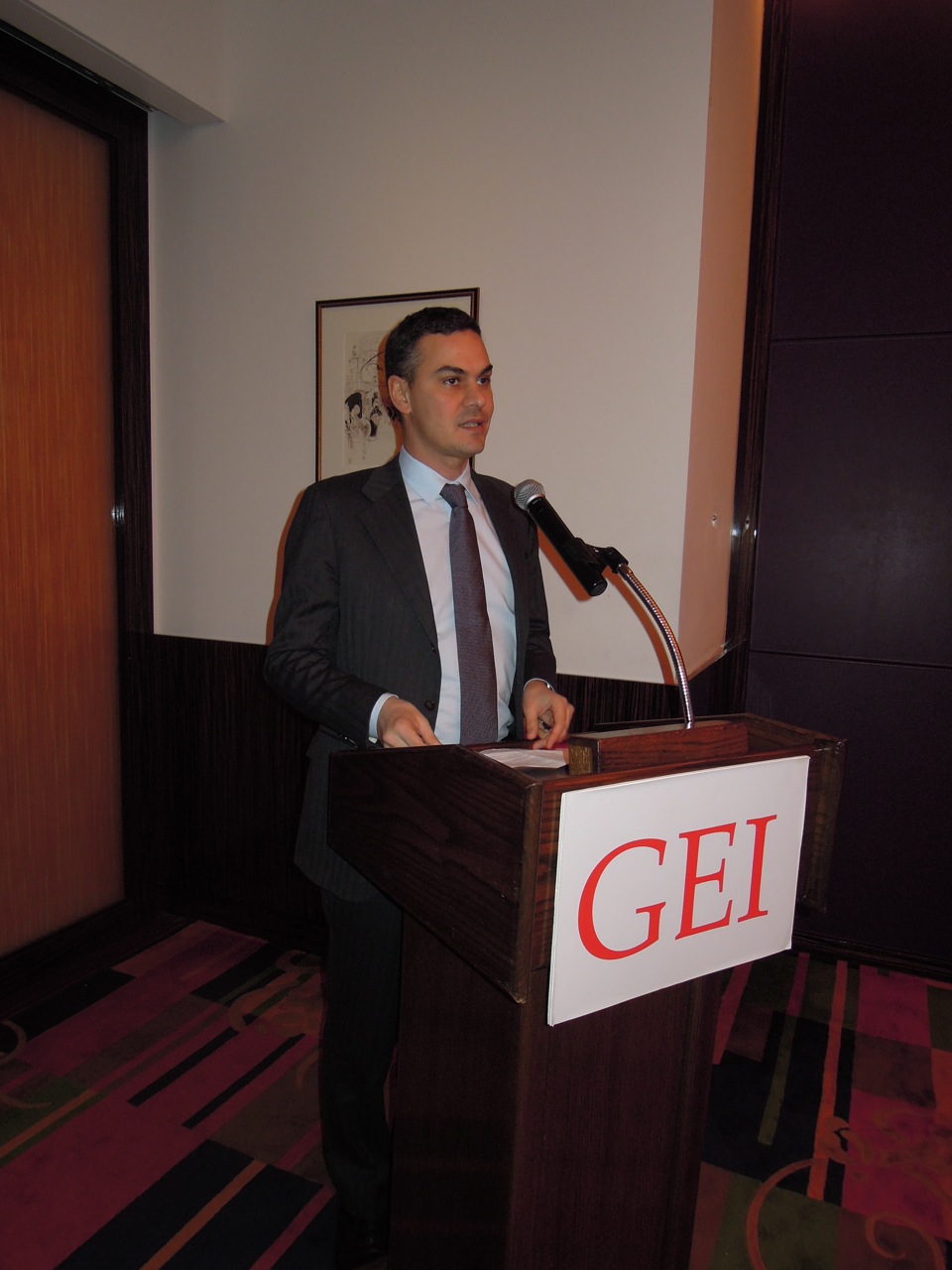 GEI Luncheon in honor of Mr. Massimiliano Gioni
Good evening, ladies and gentlemen. Today I am very pleased to welcome to GEI, Mr. Massimiliano Gioni, the new Artistic Director of the 55th Biennale di Venezia, the Associate Director and Director of Exhibitions of the New Museum in New York, and the Artistic Director of the Fondazione Nicola Trussardi in Milan.
Since 2003, he has been directing the Nicola Trussardi Foundation. He has been organizing major exhibitions in this nomadic museum, which commissions and produces solo exhibitions, special projects, and interventions in abandoned buildings, public spaces, and forgotten monuments of the city of Milan.
In 2003, for the 50th edition of the Venice Biennial, Gioni curated The Zone, a temporary pavilion for young Italian art.
In 2004, he curated Manifesta 5 in Spain and, in 2006, he organized the 4th Berlin Biennial for Contemporary Art. In September 2010, Gioni directed the 8th Gwangju Biennial, the oldest and most prestigious Asian biennial.
Indeed, Gioni has collaborated with many institutions, museums, and biennials worldwide while also cultivating a series of independent initiatives such as the non-for-profit spaces, The Wrong Gallery and Family Business, and the independent magazines, Charley and the Wrong Times.
He started working at the New Museum in 2008, where he has curated numerous, highly-attended exhibitions. In 2009, he initiated the New Museum Triennial and co-curated its inaugural edition.
In 2010, Gioni was appointed Associate Director of the New Museum, becoming responsible for its entire exhibition program. Gioni's group shows and thematic, well-researched exhibitions have become a signature feature of the New Museum program.
A former U.S. editor of Flash Art magazine, Massimiliano Gioni has published articles in Artforum, Frieze, Parkett and ArtPress, and contributed writings to numerous magazines and catalogues. He has published regular monthly columns in the Italian magazines Wired and Rolling Stone, and from 2011 to May 2012, he served as the visual arts editor for the architecture magazine Domus.
In January 2012, he was appointed Artistic Director of the 55th International Art Exhibition – La Biennale di Venezia, which opened to the public in June 2013. At 39, Gioni was the youngest director in the 118 years history of the Biennale di Venezia. With more than 455,000 visitors, this edition has already marked a record attendance.
Therefore, I am very pleased to present Mr. Massimiliano Gioni, on behalf of GEI, with the "GEI FRIENDSHIP AWARD" in recognition of his many achievements in his outstanding career in art.
PHOTOGALLERY: