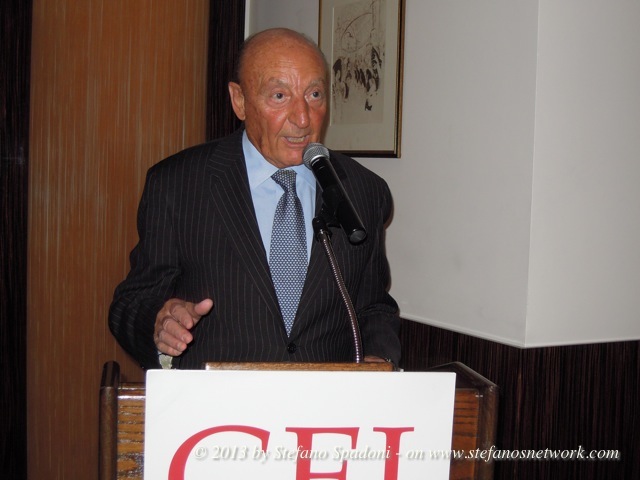 GEI Luncheon in honor of Noel Lateef President of the Foreign Policy Association
Remarks by GEI President Lucio Caputo:
It is with great pleasure that – on behalf of GEI and myself – I extend the most cordial welcome to the President and Chief Executive Officer of the Foreign Policy Association, Mr. Noel Lateef.
Born in Rome, where his family was posted with FAO, Mr. Lateef received his B.A. magna cum laude from the Woodrow Wilson School of Public and International Affairs at Princeton University.
He received a JD degree from Yale Law School, where he was elected executive editor of the Yale Journal of International Law and editor of the Yale Law Journal. After graduating in 1982, he served as law clerk to James R. Browning, the Chief Judge of the U.S. Court of Appeals for the Ninth Circuit.
Prior to joining the Foreign Policy Association, Mr. Lateef was Chairman of The Bowery Savings Bank, a venerable New York-based financial institution founded in 1834. He was also previously affiliated with Sullivan & Cromwell and the U.S. State Department.
In 1995, upon the sale of The Bowery Savings Bank, Mr. Lateef joined the Foreign Policy Association as President and CEO. Noel Lateef is the longest serving President of the Foreign Policy Association, America's first nonpartisan, not-for-profit organization devoted to citizen education in international affairs and which will celebrate its 100th Anniversary next year.
The mission of the Foreign Policy Association today, as it has been throughout its 99-year history, is to serve as a catalyst for developing awareness, understanding, and informed opinion on U.S. foreign policy and global issues.
In addition to running the FPA, Mr. Lateef is also active a member of the Century Association, the Council on Foreign Relations and numerous corporate boards. He is an adjunct professor of international law at SUNY Stony Brook and has authored over thirty publications, including a book on economic development in the Sahel Region of West Africa.
I have known Noel for many years and I have always admired his character, his limitless understanding of complex international relations, as well as his great ability to guide the Foreign Policy Association, which, under his leadership, has become one of the most influential and prestigious organizations in the U.S.
I am pleased, therefore, on behalf of GEI, to present President Noel Lateef with the "GEI Friendship Award" in recognition of his many outstanding accomplishments.
>>>><<<<<
The luncheon was held on April 20th in the Stella Private Room
of Le Cirque restaurant in New York City.