GEI Luncheon in honor of Vincenzo Boccia President of Confindustria
---
Remarks by GEI President Lucio Caputo:
It is with great pleasure that – on behalf of GEI and myself – I extend the most cordial welcome to the President of Confindustria, Dr. Vincenzo Boccia.
Born in Salerno Dr. Boccia graduated with a degree in Economics and Commerce. He is the CEO of Arti Grafiche Boccia and, on May 25, 2016, he was elected President of Confindustria.
Arti Grafiche Boccia, headquartered in Salerno, was founded more than fifty years ago by his father, Orazio Boccia. It is an Italian medium-size manufacturing company operating in the graphic industry which has been expanding in foreign markets such as France, Germany, Denmark and Lebanon.
Dr. Boccia started his involvement with Confindustria at a very early age. In the early 90s he was Member of the Young Entrepreneurs of Confindustria, and became their national Vice President in 2000. From 2003 to 2007 he was President of Confindustria Assafrica & Mediterranean and later Member of the Council of Assografici.
From 2009 to 2013 he was President of Confindustria's Piccola Industria, the organization of Confindustria focused on SMEs development and growth. While serving as President of Piccola Industria, Vincenzo Boccia became Vice President of the Confederation. Until May 2016, he also led the Technical Committee of Confindustria for Credit and Finance.
In his new position, President Boccia is trying to develop a bridge between the needs of companies and those of society while creating a more consistent dialogue emphasizing the special social role of enterprises for the development and life of the communities in which they work.
Under President Boccia's leadership, Confindustria is going to face, in the very near future, many new challenges, such as the relations with the new Government that will be formed after the elections, as well as some very important problems that will span from a possible tax on the patrimony to reduce the deficit and taxes to the new American protectionism, and will include the restructuring of the different trade associations, like what was recently done with the creations of "Confindustria Moda" and their role on the export/promotion field, or the new "Made in Italy" Label proposed by the MISE,  not to mention the refinancing of Il Sole 24 Ore.
It is a formidable task that will require all the enthusiasm, experience and determination of President Boccia, to whom we extend our warmest wishes and a friendly in "bocca al lupo."
I am pleased, therefore, on behalf of GEI, to present President Vincenzo Boccia with the "GEI Friendship Award" in recognition of the many accomplishments he has already reached and of the ones we are sure he will make in the future.
~ Click on the Press Release below for the PDF ~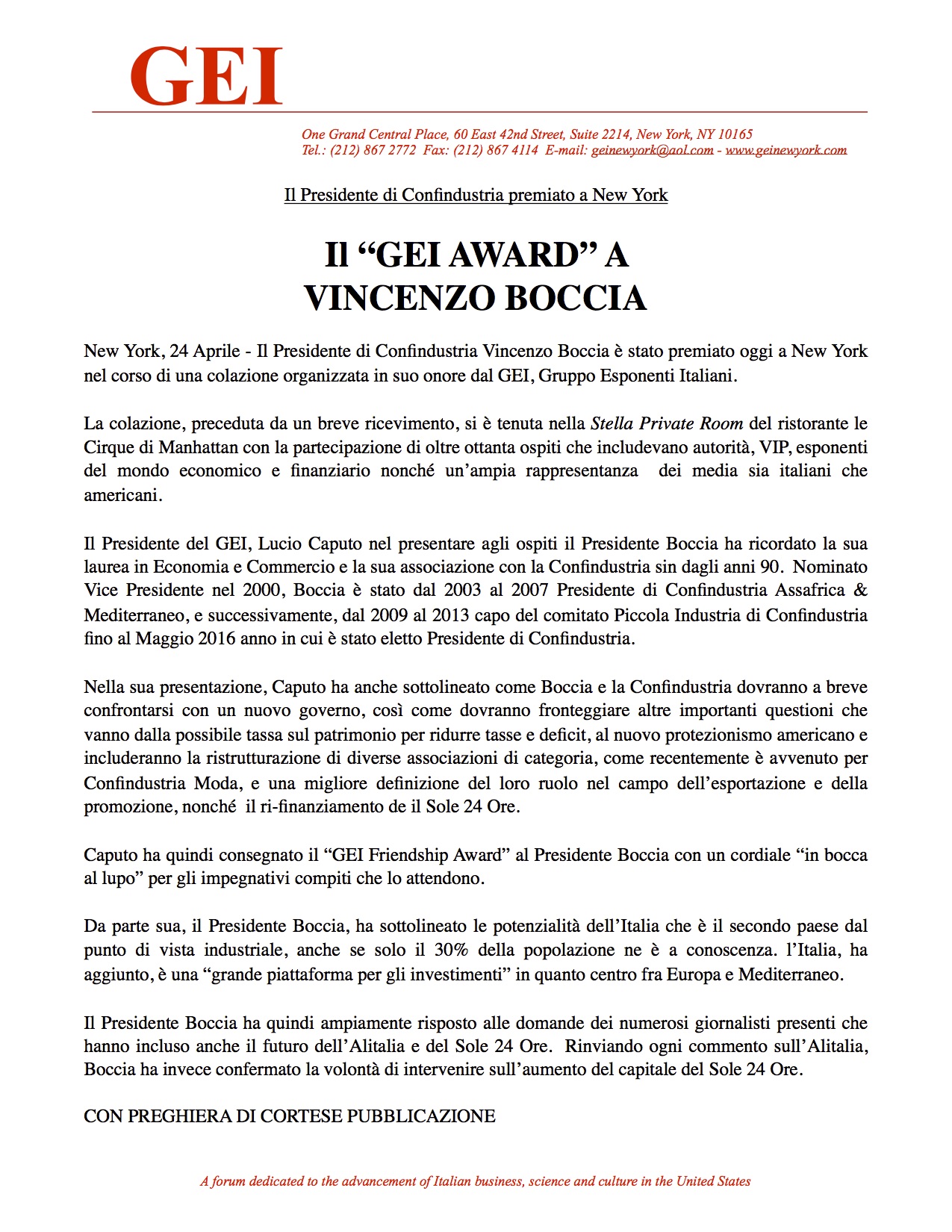 ~ Click on more articles about the GEI luncheon ~

>>>>><<<<<
The luncheon was held on April 24th in the Stella Private Room
of Le Cirque restaurant in New York City.