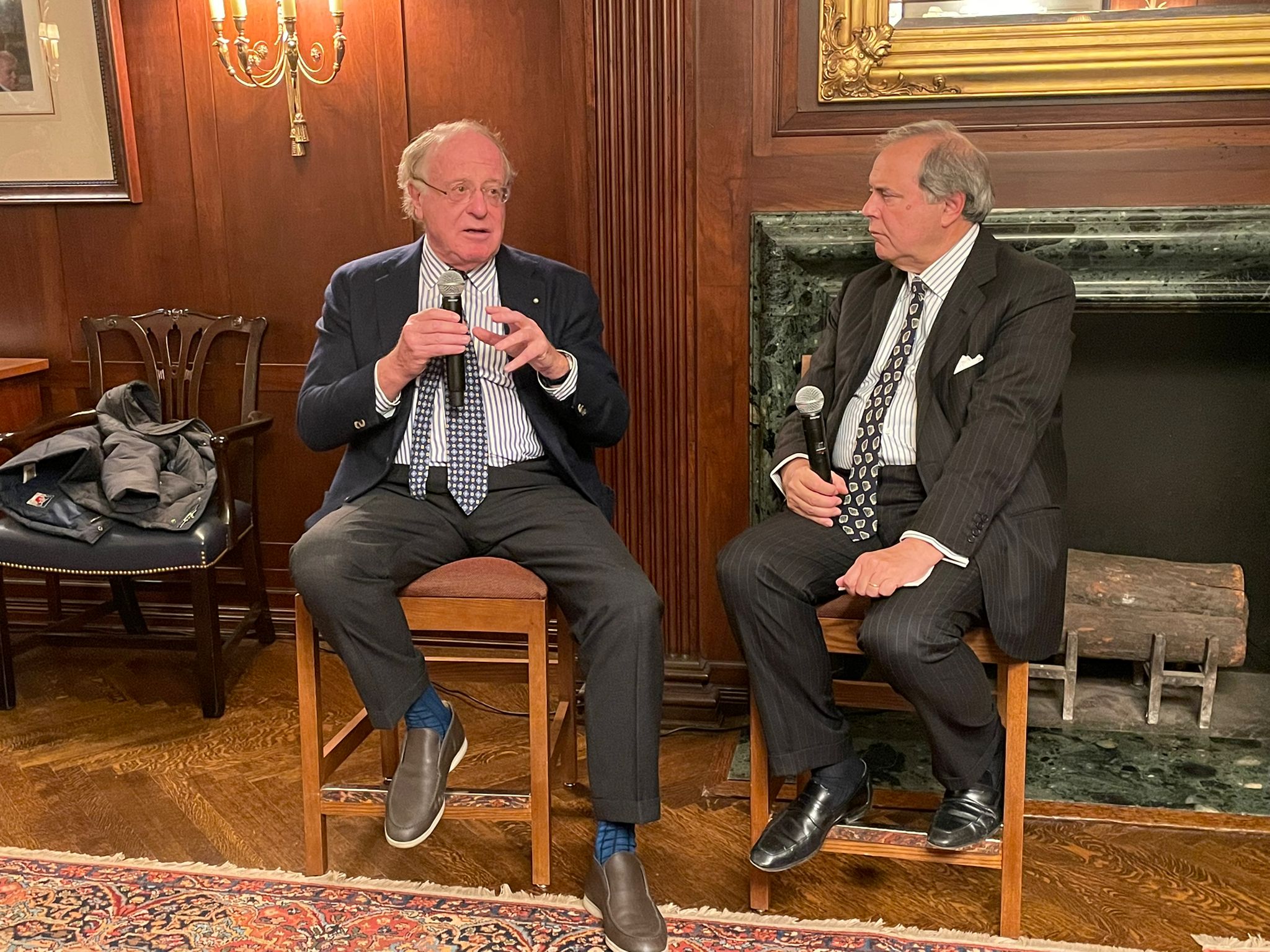 Paolo Scaroni at GEI: "We are still miles away from energy transition".
New York, March 25th- Paolo Scaroni, Deputy Chairman of the Board of Rothschild Group since 2014, former CEO of ENI and ENEL, Chairman of Società Farmaceutica Giuliani and of AC Milan, was the guest speaker of GEI monthly lunch on March 24th. During his conversation with GEI President Mario Calvo-Platero, Scaroni discussed the energy challenges facing Europe in the aftermath of Russia's invasion of Ukraine, in front of an audience of Italian and American businessmen at the Racquet and Tennis Club, in New York.
Given Scaroni's extensive experience in the energy sector he was uniquely positioned to offer insights on this critical issue. The conversation addressed both the energy consequences from the war, as well the future of alternative energy sources, the strategic considerations that come into play when countries must balance their energy needs with their geopolitical priorities and the future of the Europe's energy security.
Regarding Russia's role in the energy sector, Scaroni noted that the Russia had been "the Texas of Europe" for seventy years. "We were importing oil, gas, coal, diesel. Nothing to do with Putin or Russia; it was something which states back a long time ago- he said- Today, we are progressively replacing the Russian gas, either with LNG- Liquefied natural gas- or supplies from other countries. Are we at the end of the process? Not yet. If next year, we will have a terrible winter, we could enter into a difficult time".
When Mario Platero asked about renewable energy sources, Scaroni said: "In the last quarter of 2022, the world used more oil than ever in the history. After 4 trillion of investments in renewable, from 2004 to 2022, consumption of oil hit the record. People think that renewable are important. Unfortunately, are not.  Every investment we make in renewable is in the right direction because we protect the environment and, in the case of Europe, we protect our energy security. But- he continued- today, we are still miles away from energy transition. Renewables represent 3% of consumption of our planet. We need to be very careful how many people make green washing. Many companies tried to be ESG compliant not making real actions, but divesting from Co2 intensive activity".
Scaroni served as the CEO of Italian energy company Eni from 2005 to 2014. Under his leadership, Eni became one of the world's largest oil and gas companies and expanded its operations to new markets in Africa, Asia, and the Americas.
From 2002 to 2005, he served as a CEO of Enel, Italy's leading electricity utility. Under his mandate, Enel was included in the Dow Jones Sustainability Index. Before joining Enel, Scaroni was working in the United Kingdom since 1996 for the British glassmaker Pilkington as the president of Automotive Products worldwide.
From 1985 to 1996, he worked for the industrial firm Technit as executive vice president. After his studies, in 1973 he worked with French glassmaker Saint Gobain, with several different responsibilities, until 1984.
Paolo Scaroni, born in Vicenza in 1946, holds degrees in economics and business administration from Bocconi University in Milan and an M.B.A. from Columbia Business School. In 2004, Scaroni was decorated Cavaliere del Lavoro and in 2007 received the Légion d'honneur.